I'm not sure who decides these things, but today (June 11th) is World Gin Day. So what does one do on a day that celebrates gin? I'd hazard a guess that we'd enjoy a gin cocktail. The obvious choices are the Negroni or Martini, but may I suggest The Filby? Yes, I've written about this cocktail before, but that was prior to having some very interesting information given to me about the people who created and influenced this cocktail. It really is a great story.
When I first wrote about the Filby, it was for Mixology Monday and the topic was about introducing neophyte drinkers to the world of cocktails. I used the Filby as an example, plus it had an interesting history I found in an old newspaper clipping:
"The Filby was created by Peter Brennan, a bartender from England, and won a Paris bartending competition in 1978. The name of "The Filby" was Peter's way of honouring a great supporter of the United Kingdom Bartenders Guild and of the IBA, Bob Filby, then the Export Director and later Managing Director of Gordons Gin."
After that post I ended up receiving a number of emails from friends and family of both Peter Brennan and Bob Filby, which expanded on the history, and a very interesting one at that. The story begins on January 20th, 1945 in Zetten, Holland during World War II:
"During the attack on the most closely built up and most heavily defended part of Zetten on 20 January 1945 the commander of the assaulting company ('A' Company) was wounded during extremely fierce close quarter fighting and had to be evacuated. At this time the attack was held up by the very stubborn resistance of the enemy which had caused heavy casualties to 'A' Company. Despite the confused nature of the fighting and the enemy's close range accurate shooting Captain Filby ran from Section to Section reorganizing the company. At least four men were hit accompanying Captain Filby on this most dangerous task but he carried on until his task was complete. Captain Filby then organized a fresh attack with the remainder of 'A' Company on a strongpoint of well-defended houses. He personally led the attack carrying a Bren [light machine] gun with which he killed at least 10 Germans during the assault. His fifth runner was carrying a PIAT [Projector Infantry Anti Tank] and throughout the action Captain Filby whilst commanding and leading his Company used with deadly effect either his Bren or PIAT. Throughout the action which was most hotly contested his example was an inspiration to the whole Company and it is certain that his courage, determination and skill were instrumental in the Company eventually capturing the heart of the defences of Zetten."
"On completing the capture of the objective Captain Filby again personally dashed from house to house reorganizing the position during which time he was narrowly missed by enemy snipers, bazookas and Spandaus [rapid fire machine guns] several times. The enemy counter-attacked fiercely and one of the houses previously held by 'A' Company was retaken by them. Captain Filby led his runner [bodyguard and messenger] and the remainder (3 men) of a Section and broke into the house killing or capturing the 9 Germans inside."
"Throughout this very fierce and bloody fighting in houses and streets Captain Filby's inspired leadership set an example of courage, and determination, and skill which NOT only brought his Company to their objective but finally broke the crust of the enemy's defence and his will to fight for the remainder of Zetten."
RG FILBY
CITATION FOR THE MILITARY CROSS
Date of Citation: 25 January 1945
Award Recommended: Military Cross (Immediate)
Recommendation Endorsed and Signed by:
Lieutenant Colonel MAH Butler, CO 2nd Battalion The Essex Regiment
Brigadier RH Senior, Commander 56th Independent Infantry Brigade
Major General, Commander 49th Division and Acting Commander 2nd Canadian Corps
General HDG Crerar, General Officer Commanding-in-Chief First Canadian Army
Field Marshal Sir Bernard Montgomery, Commander-in-Chief, 21st Army Group
The above is a transcription of Bob Filby's citation for the Military Cross—which is the 3rd highest award for ";acts of exemplary gallantry during active operations against the enemy". If you will note, Field Marshal Sir Bernard Montgomery—commander of all Allied ground forces during the Battle of Normandy—is a signatory, which is a significant endorsement.
After the war, Bob Filby returned home to England, got married and started working for Gordon's Gin. Through the years he worked his way up to Export Director then Managing Director of Gordon's Gin.
In 1978, a bartender by the name of Peter Brennan who worked at the Mayfair Hotel in London, was at the International Cocktail Festival in Paris for a cocktail competition. Peter won the competition with The Filby cocktail which was named in honour of Bob Filby and as a way of recognizing the great support he provided the United Kingdom Bartenders Guild and the IBA. Peter Brennan later became the President of the UK Bartenders Guild and was bestowed with the highest IBA honour in 1983, the International Angelo Zola prize
I had the chance to exchange some emails with friends of Peter and Bob, while also emailing Bob Filby directly. In February 2010 he celebrated his 65th wedding anniversary, putting his wedding date just one month after his actions in Holland. Currently in his 80's here is how he described his time during the war and following years.
";I had an exciting time in WW2 landing in Normandy on D-Day and fought through to Germany. I was lucky enough to be awarded a Military Cross and the French Government gave me a 'Croix de Guerre'. I had never seen the citation for my MC until it came through my letter box on 20th January 2010 exactly 65 years after the action took place in Holland. It has been collecting dust in War Office Archives all this time, but makes interesting reading!! I am delighted that my Regimental Association has at last been able to unearth it for me."
"I have had a good life and lucky to have been reasonably successful both in the Army and in my business career. In my twilight years I have many memories mostly happy but some bad bearing in mind all the friends I lost in battle."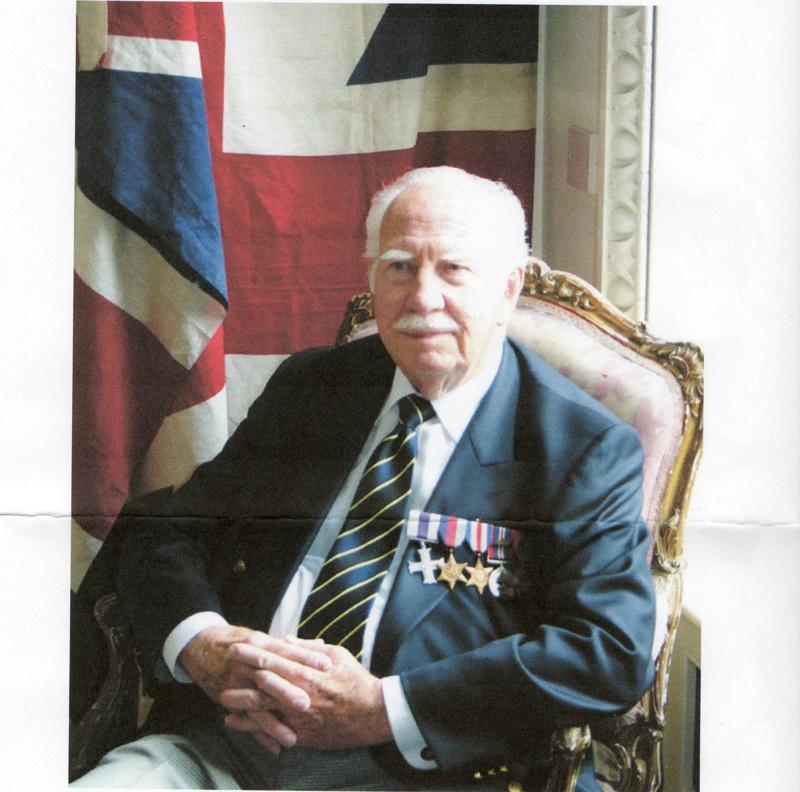 Bob Filby
By all accounts Bob Filby is a tremendously great man, who is humble and cherished by his friends.
Sadly, Peter Brennan passed away in 2005. In my first post on the Filby, Peter's daughter Sandra Alexander (nee Brennan) posted the following comment:
";The creator of "The Filby" Peter Brennan, was my father. Sadly, he passed away in June 2005 and is greatly missed by all his family and friends. He was indeed a very famous and talented bartender and was an ex-President of the United Kingdom Bartenders Guild. He was also known and respected internationally and travelled the world giving lectures and judging cocktail competitions. I am thrilled to read the article about him, it brought tears to my eyes."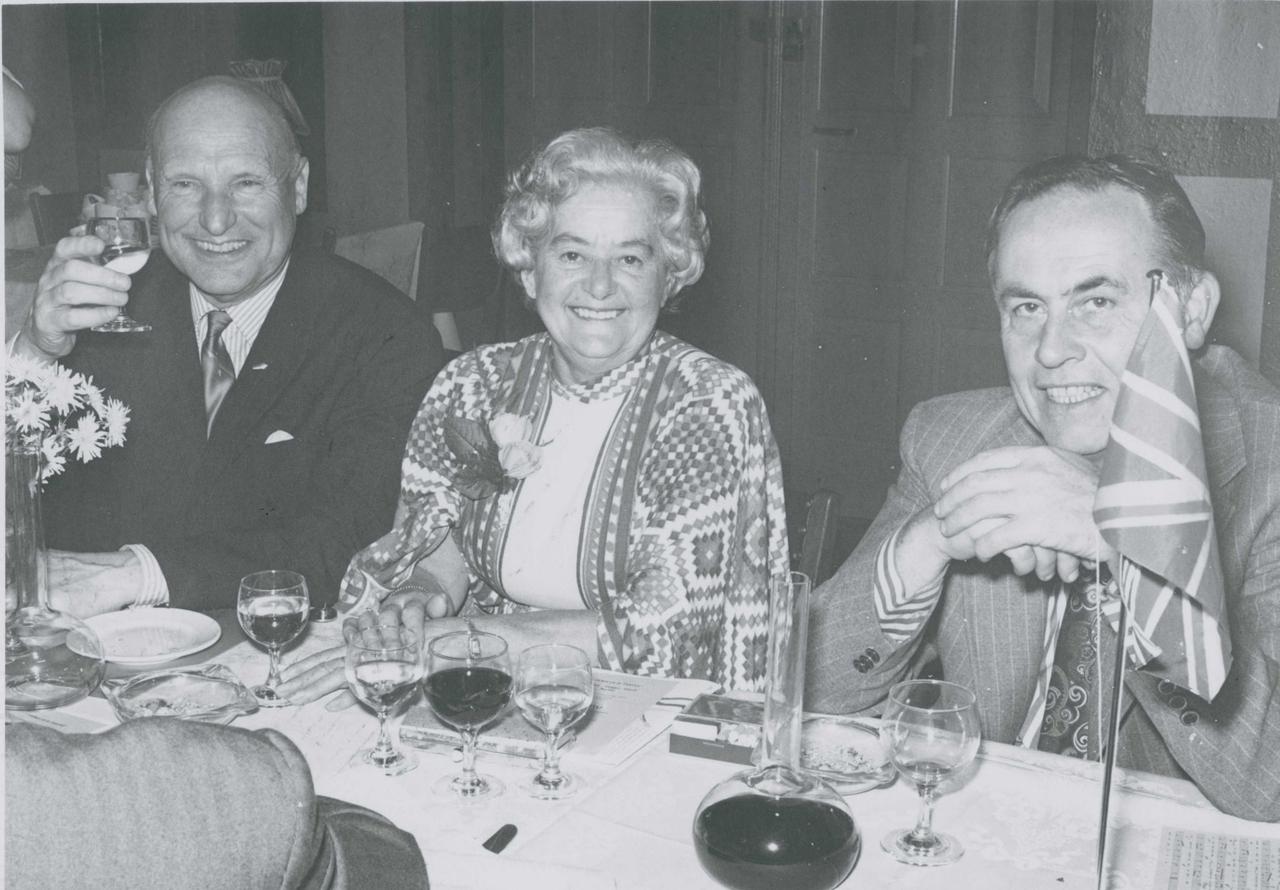 Peter Brennan (right)
I've often said that it's people that make a drink interesting, and I truly believe that the Filby cocktail is a perfect example of this. We can debate the intricacies of cocktail ingredients ad nauseam, but what people really want to know is the story behind the cocktail and what makes it special. In the case of the Filby it's family, friendship, respect, courage, loyalty and humility that makes The Filby a great drink.
The Filby Cocktail
1¼ oz Gordon's Gin
½ oz Amaretto Liqueur
½ oz Dry Vermouth
¼ oz Campari
Instructions: Combine all ingredients in a shaker glass with ice and stir until well chilled. Strain into a cocktail glass. Express the oils of a large orange zest and rub the zest around the rim and garnish appropriately.
Thanks to Brian Page, Ron Busman, Andrew Collinson and David Collinson for providing additional information on the Filby.