New Orleans has such an interesting drink history but, finding a good cocktail, like a Vieux Carre, in New Orleans can be a task. The city has become a centre for partying and that means quantity, not quality for many bars. Forget Bourbon Street for cocktails, except for a rare few establishments. Some other places in the French Quarter offer potential, but most visitors to New Orleans are looking for anything but complex cocktails. So the general advice is pick your cocktail carefully.
Now, if you go to the Carousel Bar at the Hotel Monteleone and order the Vieux Carre, you will not be disappointed. It may not be perfect, but they do make a Sazerac better than most places around town. The drink was invented at the Hotel Monteleone by Walter Bergeron in the 1930s so they do maintain a level of responsibility when making the cocktail.
Usually, I'd use a good vermouth, like Vya or Punt e Mes, but for this, I decided to stick with Martini. Why? Because taste has this powerful ability to flash you back to where you were when you had this drink and if you have had one at the Carousel bar it will remind you of fun times. If we try to modify the Vieux Carre too much, it won't have that cool effect of mentally going back to New Orleans.
Yield: 1 Drink
Vieux Carre Cocktail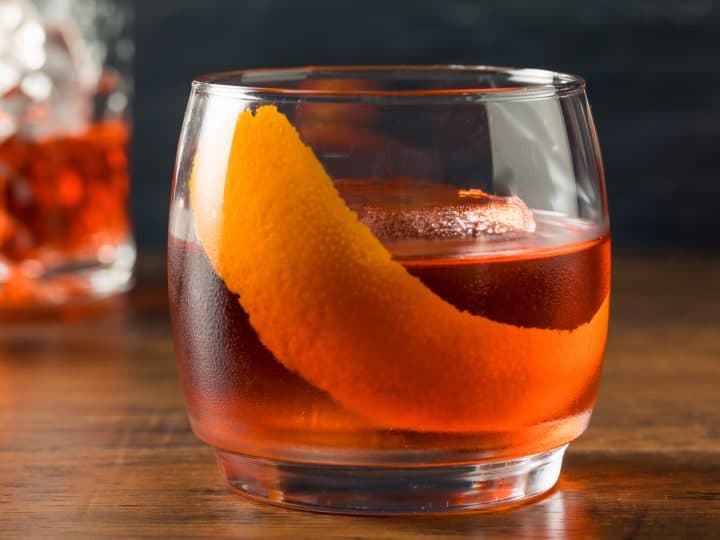 A New Orleans classic cocktail, vieux carre means "old square" in French.
Ingredients
½ tsp Benedictine
1 dash Peychaud's Bitters
1 dash Angostura Bitters
¾ oz Whiskey (Rye)
¾ oz Cognac VSOP
¾ oz Sweet Vermouth
Instructions
Add sll of the ingredients to a mixing glass
Stir for at least 15 seconds
Strain into a chilled rocks glass
Garnish with a orange peal (or a cherry)
Nutrition Information:
Amount Per Serving:
Calories:

180
Now, this drink has been covered a lot, so you can check out additional information at the following links.
References:
Cocktail Spirit with Robert Hess (Vieux Carre)
Chuck Taggart – Gumbo Pages Vieux Carre
Paul Clarke – Cocktail Chronicles – Longevity
Serious Eats – Paul Clarke Vieux Carre
Jeffrey Morgenthaler Vieux Carre
Plus many, many more.