December 12th seems to be National Cocoa day in the US. Why? I don't know, but I'll jump on this bandwagon because I came across an old and interesting recipe from an article in the Kansas City Star (December 1911) entitled "Hot Holiday Drinks to Serve". This particular drink piqued my interest because it was titled "Cocoanut Milk Chocolate". Coconut in hot chocolate? That I have to try. You can find the complete article and recipes after the click.
There is a time and place for hot chocolate. It's not my "go to" beverage of choice, but there is something about the holiday's, a heavy snowfall, and a lazy day when you don't want to leave the house that makes it appropriate.
The other consideration is finding a good recipe. The powdered stuff just doesn't cut it, even if it comes from some haughty boutique food store. If you are going to make real hot chocolate, you need a vintage recipe from the days when housing had a constant 10-knot draft and indoor plumbing was sparse. That's when hot chocolate really served a purpose.
The following recipe would be considered rich, without excessive sweetness.
Hot Chocolate Recipe
2 cups Whole Milk
½ cup Coconut Milk
¼ cup Sugar
1 Egg White
60 g Dark Chocolate*
Place the milk in a pot and bring to a simmer and then add the chocolate and stir until melted. Let simmer for a few minutes. Combine the coconut milk, sugar and egg white in a bowl and whisk until combined. Add the coconut milk mixture to the simmering chocolate milk while whisking constantly. Continue heating until hot, but not boiling. Serve in small cups with a tablespoon of sweetened whipped cream and a freshly prepared coconut curl.
* Many of these old recipes would have used cocoa powder, but I decided to use something better. I used Lindt 85% dark chocolate which has a small amount of cocoa butter and other tasty things. As with anything, better ingredients in, better product out.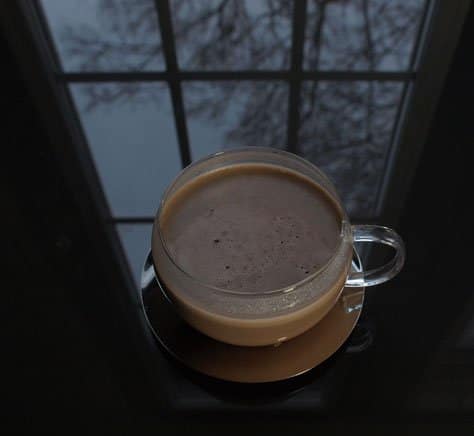 If you like rich hot chocolate, then this is for you. The coconut milk does not make it taste like a Chocolate-Colada, but it definitely adds to the richness. The egg white gives body to the hot chocolate with a perceptible thickness, which is somewhere between whole milk and commercial eggnog. The end result is very pleasant.
I may not be a hot cocoa connoisseur, but this is probably the best hot chocolate I've ever had. If you like a giant mug of the stuff, this might be a bit too decadent, but I'm sure you can modify the recipe, by adding more milk, to enjoy a 32 oz cup. Also feel free to add a spot of Green Chartreuse or Grand Marnier to add a warming kick to the drink.
From the December 1911 edition of the Kansas City Star
Hot Holiday Drinks to Serve
Novel Beverages Easily Prepared and Cheering on a Cold Winter Day
Novel, appetizing hot beverages may be offered to guests after the impromptu game of cards, the informal musical, or the on return from an evening spent at the play, with, perhaps, the addition of a daintily arranged plate of seed cookies, crisp cheese pasties or a slice of homemade cake. Never use silver receptacles for this purpose, as the metal becomes so quickly heated and retains the heat so long that it is almost impossible to enjoy the beverage at the proper temperature without burning the lips and mouth.
The following recipes have been carefully prepared and tested, and, as they are easily and quickly carried out, may be tried "with" the most satisfactory results, even by the inexperienced hostess, who feels that she is limited to inexpensive hospitality.
Cocoanut Milk Chocolate
Heat a quart of milk in the double boiler, and when very hot stir in four heaping tablespoonfuls of grated, unsweetened chocolate, moistened with a little cold water; allow it to boil and thicken; have ready nearly a pint of cocoanut milk into which has been stirred half a cupful of sugar and the whites of two eggs; add this to the chocolate and cook for a few moments, but do not allow it to boil. Remove from the fire and serve in chocolate cups, adding after it is poured into the cups a tablespoonful of sweetened whipped cream, which has been mixed with a little of the grated cocoanut.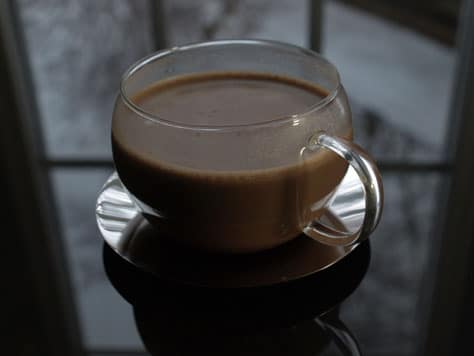 Peppermint Cup
Soak one-half ounce of pulverized gum arabic in half a cupful of cold water for thirty minutes, then dissolve it over hot water; add one cupful of powdered sugar and cook until it will spin a thread; pour this upon the stiffly beaten whites of two eggs and when well blended, add very gradually, a pint of boiling cream, a few drops of essence of peppermint and a tiny pinch of baking soda; serve while it foams, sprinkled with a little-powdered cinnamon.