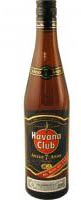 When you think Cuba, you either think Castro, cigars or rum. Well skip the first two and focus on the rum. Havana Club is the main rum producer on this tropical island, and they have been producing great rum since the late 1800s. The most widely available aged rum is the Havana Club 7 Year version, which is my preferred rum. Why do I like it you ask? Well, it is reasonably priced ($30 per bottle), it can be sipped straight or used to make a rum and Coke, and its flavour is relatively light bodied, so it doesn't over power cocktails. This rum works well in a Mai Tai too.
First, I know many people cannot get real Havana Club (not the opportunistic Bacardi version) because of the US trade embargo. Hopefully, someday the restriction will be lifted, and the US can gain access to this great rum. Before that happens, I should stock up!
Havana Club makes only a few internationally available rums including their silver rum (Anejo Blanco), the three-year-old, oak aged, whitish rum that is perfect for mojitos, the Anejo Reserva, the seven year and the fifteen-year-old Gran Reserva. There is also a barrel proof Havana Club rum and Maximo an ultra-premium aged rum which is very rare and ultra expensive.
Rum that has been aged in oak barrels, in warmer climates, tend to extract more of the oak flavours from the barrel because of the increase in temperature. This tends to make a 7-year-old rum equivalent to a 15-year-old whisky. It's close, but that simple, but rums that would seem young in whisky years are very smooth and mature for their age.
Havana Club 7 Tasting Notes:
Appearance: Golden in colour with a brownish hue.
Nose: Aromas of molasses, sugar cane and subtle tobacco note.
Taste: Smooth with vanilla, oak and a slight molasses sweetness. Subtle tobacco / smokey finish with a bit of wood spice.
The Havana Club 7 Year has an almost scotch like characteristic because of the tobacco smokiness. This smokiness probably comes from the use of heavy char oak barrels during ageing. If you like scotch and want to try rums for a change, try the Havana Club 7 Year, you might be surprised.
Overall this rum is probably the one to beat for price and quality. It's not an overpowering rum but has more than a fermented molasses flavour, common in cheaper rums. It doesn't have the burn associated with cheaper rums either, which makes this great for sipping, I prefer mine with a single, large, ice cube. The smoothness also makes it great for making cocktails and at $30 CDN per bottle you don't feel like you are wasting great vintage rum.