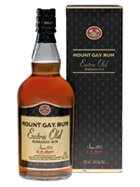 Here is a rum that is a popular call brand at the bar. Mount Gay Extra Old is a premium rum from Barbados which is aged for 17 years in charred oak barrels. Like the label says, it is an extra old rum which gives it the character and smoothness many people appreciate. Most of the time people want the Eclipse rum, which is Mount Gay's mainstay rum, but the Extra Old is an even better choice considering the price of the Mount Gay Eclipse is $28 CDN per bottle and the Mount Gay Extra Old only costs $37 CDN. So if you want to pick up a bottle of Mount Gay, you should seriously look at the Extra Old.
Mount Gay is probably the oldest rum distillery on the planet. There has been documented rum making going on since 1703. Considering the known history of rumbullion dates back to 1650 this is pretty good for this little Barbados company. The distillery is fairly small and exports about four million bottles (450,000 cases) of rum a year. The Extra Old rum is bottled in Barbados, but the Mount Gay Eclipse is shipped bulk to other countries and bottled.
Many people are familiar with Mount Gay rums, especially east coast provinces in Canada and New England in the US because of the long-running trade of codfish for rum. Even today the consumption of rum on the east coast of North America is the popular choice. Think Newfoundland Screech, Cabot Tower and Sam's.
Mount Gay Extra Old is a blend of single and double distilled rums picked from Mount Gay's rum warehouse. The rum is aged in toasted oak barrels, giving it a smoky and rich oak flavour. In 2007 Mount Gay was rated as being the favourite rum of America's "rich and famous" according to the Luxury Brand Status Index. Mount Gay is also a sponsor of many sailing events, which may help with the Luxury Brand status since many rich and famous people have boats.
Mount Gay Extra Old Tasting Notes:
Appearance: Deep golden brown like a well-aged bourbon.
Nose: Sweet and smooth with lots of molasses and oak.
Palate: Smooth with a little bit of alcohol warmth, which you expect in a rum. Characteristic rum flavour with some vanilla, spice and nice toasted oak flavours. Not as sweet as you would think based on the nose. A warm clean finish with some pepper, lingering oak and a subtle sweetness.
The Mount Gay Extra Old is definitely a sipping rum with subtle flavours. In terms of sweetness, it falls between the Flora De Cana 7 and the Havana Club 7. The nose is very good and the flavour is subtle, so a rum and Coke is probably not a good idea.
When you compare the Mount Gay Extra Old to something like Appleton Master Blenders Legacy, some things are obvious right away. When you pour the Appleton rum, the rum aroma hits you right away, it is big and complex. The Mount Gay is good but the Appleton just seems to have a more complex nose with citrus notes. When it comes to taste the Appleton rum has a lot of depth of flavour and the finish is long and bright. Again the Mount Gay Extra Old is no slouch and is a very good rum, but the finish isn't as deep with flavour. One thing to keep in mind is that the Appleton's Master Blender Legacy is more than twice the price of the Extra Old and has rums that are 30 years old in the blend.