One of the things you can count on in the cocktail, and culinary, world is variations on existing recipes and it just happens that this months Mixology Monday is on "Variations". Generally, a variation of a recipe comes about because people get bored of the same old thing, don't like something, or sometimes out of necessity. Taking something that is established and applying a twist is also a fun way to experiment, and I try to do this frequently just to see what happens. Today, I'm doing a variation on a variation. A long time ago I modified a Caesar into an Octavian, but now I'm going to take some of those modifications and apply them to a Bloody Maria, which in itself is a variation of the Bloody Mary.
For those that don't know, a Bloody Maria is a Bloody Mary made with tequila, instead of vodka. A Red Snapper is gin substituted for the vodka, but with a little historical confusion, more on that in another post.
The variation here will be to substitute the tomato juice with mango puree. For this to work properly you need to get real mango puree, not mango nectar or mango flavour Kool-Aid crystals. The reason for this is that mango puree isn't excessively sweet and has a similar texture to good tomato juice.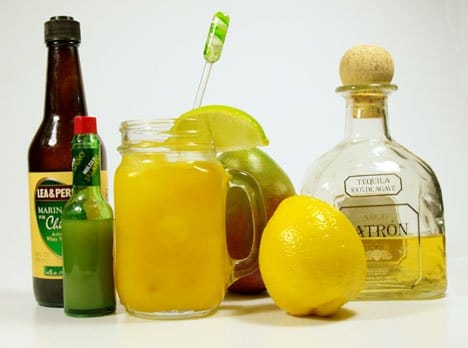 Now, the reasoning behind this variation is that mangos grow so well in Mexico that combining them with tequila seems like a great idea. Also, mangos go exceptionally well with hot spices, which is one of the underlying characteristics of a good Bloody Mary / Caesar.
Tequila Maria
1½ oz Patron Tequila
3 oz Mango Puree
3 Dashes Tabasco
2 Dashes Worcestershire
Dash Salt and Pepper
Squeeze of Lemon Juice
Garnish with a lime.
Instructions: Pack a glass full of ice. In a cocktail shaker combine all the ingredients, add ice and shake. Strain into the glass and garnish with a lime wedge.
If you can find it, try White Wine Worcestershire sauce. One of the waiters I worked with absolutely loved this stuff. He used it in his Caesars and felt it brought the drink to a new level. But if you don't have it, regular Worcestershire will do. Also, I used white pepper because I don't like little black flecks floating in my yellow cocktail. I also used green Tabasco (mild) sauce but the regular stuff will work perfectly fine.
So how does it taste you may ask? Well, to me it is very, very good. It has a savoury quality to it and the sweetness of the mango is really subdued by the lemon/lime juice, but the mango flavour is very present. The spice from Tabasco is present without being overpowering. Of course, if you really like spicy drinks, just up Tabasco or use one of those "suicide sauces".
The tequila is what really makes the drink though, so don't skimp and use the cheap stuff. Patron may be a bit pricey for what it is, but it is still a good tequila and works very well in this drink. It provides its own spicy touch that works amazingly well with the mango.
The Tequila Maria isn't perfect, but as a simple variation on a standard drink, it is pretty good. But then again, I'm not a huge fan of tomato-based cocktails, so working with something I like is a great way to vary recipes.
This months edition is being hosted at Jimmy's Cocktail Hour, so check go over and check out the summary. I suspect I know where this topic came from when Jimmy and I crosses a quantum instance where we had the same idea for a variation of a drink. See the Bergeron Cocktail