And here are the final bartender summaries for the top six competitors. Sometimes circumstances have an interesting effect on the final positions in any competition. There is no doubt that things like jet-lag, smoke inhalation and the sniffles can make or break a competitor. But, the top competitors always find a way to rise above these things and still give outstanding performances.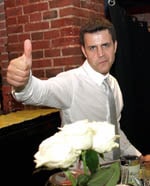 6. Spyros "The Thumb" Patsialos (Greece)
Another of the Greek contingent, Spyros was one of the more lively bartenders. His scores for the technical challenges were very average, often finishing in 7th to 9th place range. But, technical challenges don't always show a bartenders true skills. Spyros showed his real talent when the G'Vine Spring Ball began. He scored the maximum number of points for cocktails served which pushed his final score a few positions higher. Obviously Spyros is most comfortable behind the bar when bloggers and judges aren't analysing his every move.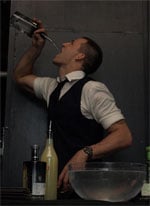 5. Martin "Inferno" Lange (Australia)
It is without question that Martin set the mood for this competition. Martin has a big personality that says "pay attention to me" and if you're on a bus or train with him, you'll remember. Now we gave Martin a hard time, partially as bartender justice for almost burning down the hotel, but to his credit he always kept his sense of humour. He even helped form the first uni-name bartender partnership with Rob (see below) known as "Robtin". Every bartending competition needs a shot of Martin, but like over-proof rum, he's a little strong and don't go near him with open flame. Oh ya, he's a good bartender too, getting the highest score for the signature cocktail and scoring 10 point shy of the maximum at the Spring Ball.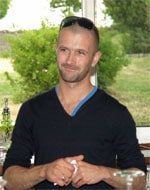 4. Rob "Zen" Poulter (UK)
Of all the bartenders, I was expecting Rob to easily challenge for 1st place. Coming in 4th was an outstanding result considering he had to share a room with Martin. Rob's easy going nature was pushed to the limit with Martin, especially when Martin left his simple syrup on a hot plate at 3AM in the morning, while just resting his eyes, and then awakening to a room full of smoke and a blazing pan, that was chucked out the window, leaving a scorch mark on the sidewalk. Rob ended up sleeping in the hallway of the hotel. And that's only one of the nights Rob spent with Martin. Rob's grace under fire was a perfect example of the proverbial British "stiff upper lip" and "Keep Calm and Carry On" by displaying great fortitude in the face of adversity.
Rob's scores were all over the map, but he scored the highest token count at the G'Vine Spring Ball, showing that his bartending skills were as good as anyone else. If he had a room to himself, he very well could have challenged for the top position. But his part in the Robtin duo was a high point in the humour department and we should all buy him a drink for that.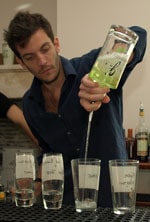 3. Damien "Slap" Aries (France)
Moving into the top three finalist one thing that separated them from the rest was their fairly quiet nature, at least from what I noticed. There might have been some home-field advantage (i.e. no jet-lag) since Damien calls France home. His challenge scores were up and down. He did get the highest marks for the Gin Nosing and Tasting challenge along with the best Bar Decoration for the Spring Ball and tied for second with the best cocktail. Like many of the top bartenders, when it came time to perform behind the bar he stepped up to the plate and took a lot of points.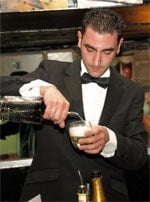 2. Javier "The Gentleman " Bravo (Ireland via Spain)
One of the comments I heard most often from the other competitors was how pleasant and friendly Javier was, and no doubt he fits that description. He was remarkably consistent throughout the competition scoring five 2nd place finishes in the challenges with one 3rd and one 4th place finish. His only weakness seemed to be the Aroma Exam where he finished last, but I do believe he had a bit of a cold which would kill any chances of winning that challenge. Over-all he was only 17 point away from the top competitor. To his credit, Javier was out and about late at night drinking Canadian whisky and tequila with the rest of us.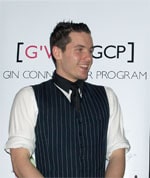 1. Stephan "The Machine" Hinz (Germany)
The person who seemed most keen on winning the competition was Stephan. He was prepared for each challenge and took the competition seriously. When his performance wasn't up to his expectations, you could tell he wasn't happy. But that is the hallmark of a great competitor. From what I saw, I would have been happy with any of his scores, his execution was superb, especially in the Speed Drink Making challenge which was a pleasure to watch. Like Javier, his scores were very consistent, usually placing in the top 3 of any event. His lowest event was the Gin Written Exam, placing a decent 8th place. Other than that he made the most out of the Spring Ball, taking the maximum points for cocktails served along with a 2nd place finish for bar decoration and a 3rd place finish for his Signature Cocktail.
No-one was surprised that Stephan won, except for maybe Stephan. There is no doubt that he earned it.