After the successful first edition of the Gin Connoisseurs Program (GCP) in 2010, G'Vine has started looking for the top gin bartender for 2011. This year G'Vine is looking for fifteen bartenders to compete. The top two bartenders from each of the following countries (Canada, Germany, Spain, the UK and the US) along with five "wildcard" bartenders from anywhere in the world will be flown to Cognac, France to face-off in a very tough, but wildly fun competition.
To enter you need to meet some basic criteria first:
1. You must of legal drinking age in your country.
2. You must be a working bartender (minimum 2 shifts/week).
3. You can't be employed by another gin company in any capacity.
4. Previous GCP finalists are not eligible to enter.
5. You must be able to travel to France to compete.
For the complete regulations look here: GCP Rules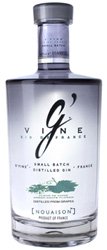 The first part of the challenge is to Register at the G'Vine website and complete the Gin training module. You might want to pick up a copy of Gaz Regan's The Bartender's Gin Compendium, seriously.
Create a G'Vine Gin cocktail, put it on your establishments' menu and mail a copy of the menu to G'Vine headquarters. Then attend the Gin Connoisseur 2011 Preliminaries in your country hosted by Philip Duff.
Wild Cards: If G'Vine isn't available in your country, you will need to compete for one of the five wildcard spots by creating a short video of your theoretical G'Vine cocktail. The rules require a bottle of G'Vine in the video, so you'll probably have to print out a copy of the G'Vine Gin "package shots" which can be found here. Wildcard spots are open to everyone (i.e. if you don't have G'Vine in your province or state you can enter as a wildcard).
Communicate your vision of "So Traditionally Unconventional" to G'Vine. It could be in the form of any artwork : a blog, a painting, a podcast, a videoclip, a photo, etc. Judging of the entries will be done by G'Vine, but also there is an element of social media involved, so you'll need people to like your "vision".
The initial challenge must be completed by April 29, 2011. See the G'Vine website for complete details and rules.
If you are one the top two bartenders from your country, or a wildcard, you will be flown to France sometime in June to compete with 14 other bartenders for the GCP title.
For a review of how the 2010 edition of the GCP went down, here's my firsthand account: G'Vine Gin Connoisseurs Program 2010