The recent upswing in popularity of spirits has had good and bad effects. The good part is that there are many more options for the consumer, with the healthy competition producing gads of new products. The bad part is that to fill the demand many companies have cut back on quality and put it into marketing. At what point does the marketing overshadow the tradition of a product? To some, it might leave a hollow feeling to know that the vodka you drink is made in an industrial facility that also makes ethanol for cars. Or that scotch that you drink is mostly contract manufactured and "assembled" and labelled by the company. But, some companies hold on to tradition, one of them being Balvenie.
I tend to be drawn to companies that care about their product. Sure, every company cares about profits, but do they care about the people, the image, the history? Why you may ask? Well, it probably relates to bartending, but when you do something will pride and professionalism, it always seems to make the drink taste better.
On a media trip to Toronto, to learn about the new Balvenie Signature 12 year old scotch, I had a chance to listen to David Mair, the Balvenie Global Brand Ambassador. He spoke about how the Balvenie tries to maintain as much tradition in their product as possible. From actually growing 1000 acres of barley, using the last traditional malt floor in the Highlands, and employing their own coppersmith and coopers.
Except for a few, most Scotch companies have completely outsourced their malting and cooperage to third parties. This is fine, but where's the commitment to tradition that seems to be so predominant on every label?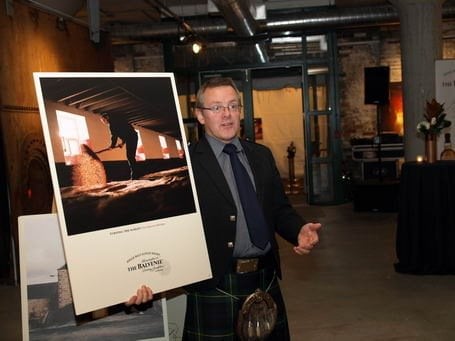 Mr. Mair is honest, and straightforward when he says he wishes they could grow and malt all the barley, but there just isn't enough available farmland. The Balvenie does source some barley malt, but everything else is done in-house, as traditional as reasonably possible. The reasoning boils down to this; "if you want something done right, do it yourself." Maintaining a level of control with the key parts of the process helps make a better product. That I can agree with.
The other thing is that we can actually connect with the product. We can take a tour, talk with David and see the process. For many products we basically get to talk to the PR people, and they'll tell us "how good it is". But do we really believe them?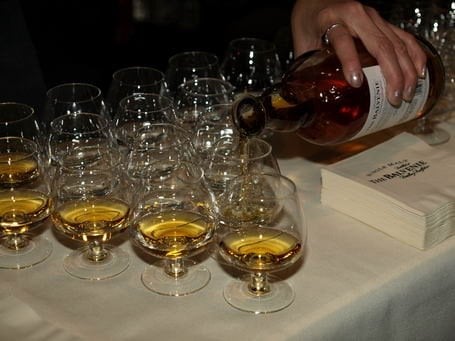 Let me use an analogy; When I go to a concert, I actually like it when there are "minor hiccups" and the band isn't perfect. Missed lyrics, offbeat segments, equipment failure, all prove that the band is real. Lip sync and I'll walk out. Play a backing track, sorry, not my thing. Live music is supposed to be fun and imperfect. Too perfect and you'll doubt it was real.
The Balvenie Signature Twelve is a modest product created by Malt Master David Stewart to celebrate his 45th year in the whisky business. Mr. Stewart is the longest-serving malt master in the industry and by all accounts a modest individual, hence the rather pedestrian 12 years of ageing.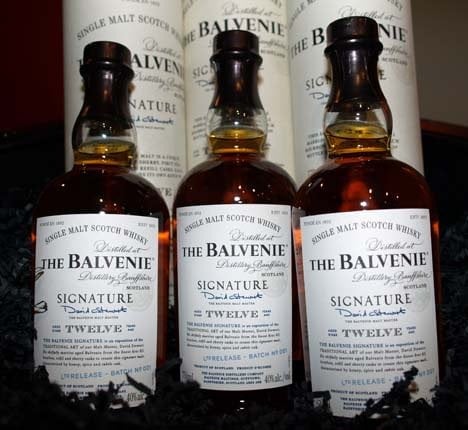 The Signature Twelve has a light peat nose with lots of sweetness, from the sherry butts and vanilla from the bourbon casks. On the tongue, it is light and sweet with good malt character, and defined sherry influences, with just small touches of peat. Straight I found the finish a bit astringent, but with a teaspoon of water, my preferred method, it was smooth and pleasant. This isn't a 30 year old, knock your socks off product, it's just a well-crafted scotch. It is a limited edition product which is currently available in Ontario, Alberta and BC and other select locations.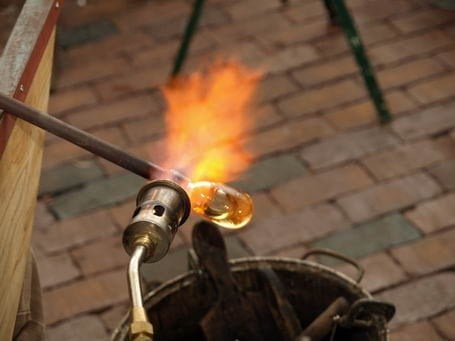 Good PR companies know how to throw in a couple of perks to get people like me to attend. Aside from the free scotch and glass blowing demonstration, they brought along the Sam Roberts Band. Now, admittedly I'm a big fan, so that was part of the draw. And I'm quite happy the PR company did this because it makes a train trip to Toronto worthwhile. If it was just to taste a scotch, I'm not sure I could justify the time and expense for every new release.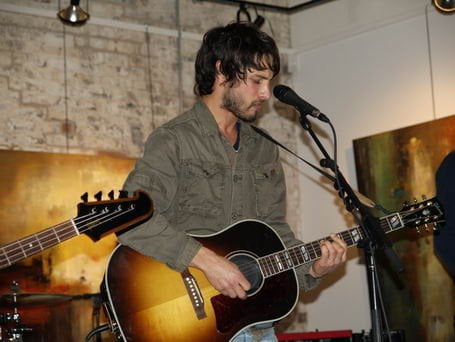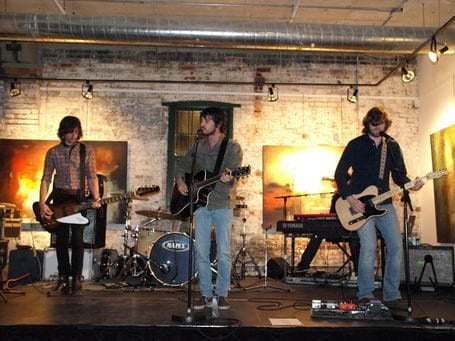 Anyway, for those of you who don't know about Sam Roberts, they are a down to earth, mainstream, rock band. Their live show is fantastic, and if you ever get a chance to go see them, do so. I highly recommend you drop by their site and at least check out their new release "Detroit 67", you can listen/watch it on the Sam Roberts Band site.