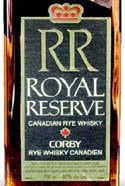 Royal Reserve is the name of a whisky distilled by Corby's, a major Canadian distiller that was bought by Hiram Walker a few years ago. With all the mergers going on in the spirit world, it's hard to say who owns Corby now. The one thing that Corby has done is create some good Canadian whiskies, including the Canadian Whisky Guild series. The three whiskies, Lot No. 40, Pike Creek and Gooderham and Worts were small batch whiskies created to showcase to the world the excellence and craftsmanship that Canadian distilling is capable. If I had the resources, I would love to review these three whiskies, but alas, they are harder to come by and more expensive. So what does this have to do with Royal Reserve? Well, some of the whiskies used to blend the Canadian Whisky Guild series are used in Royal Reserve.
Aside from the specialty whiskies made by Corby, they also make Wiser's, which is another good Canadian whisky. In a few days I'll be reviewing Wiser's Deluxe. But Royal Reserve seems to be the black sheep of the family. You rarely see any advertisements for it and the bottle looks a little dated and in need of a makeover. But, those things don't really matter, because it's what's on the inside that counts.
There isn't a lot of history that I can find on this product and there isn't a lot of advertisement for the product either. But detective work isn't my goal for this review, so that will have to wait till later. Whisky tasting is the goal. Incidentally, if anybody from Corby reads this site, please feel free to send me some information. Most of the information I have gathered comes from talking to people. One time when I was discussing which type of whisky a co-worker bought, he sheepishly admitted that he liked Royal Reserve. I found that odd, but again so few people relate with this product, because there is no advertising and the product image is so dated that it can no longer be hip to buy. So, the only reason a person would by it is because it tastes good. Could that be true?
Royal Reserve Tasting: Neat
Nose: Alcohol on the nose with sweet vanilla and fruitiness
Palate: Sweet, caramel with vanilla and some rye bite on the finish
Finish: Oak and rye with a bit of smoke. Very smooth
With Water
Adding a few drops of water softens the nose and brings out the toffee quality, along with the vanilla and subtle fruit. Even though this whisky was smooth at 40%, the water really smoothed it out. The flavours are still toffee like with some rye bite and a small amount of oak in the finish. The finish is drier than expected based on the sweetness experienced when it first hits your tongue.
Comparison
When compared to Crown Royal, you'll find that Royal Reserve is noticeably sweeter to start, but the finishes are similar with that rye and oak flavour. Crown Royal is a little more refined and complex, but Royal Reserve holds it own and isn't as one dimensional as I thought it would be. There is lot's of flavour in the Royal Reserve, but Crown Royal display's its flavours better.
Summary
Even though Corby doesn't do much marketing for this product, it is actually a pretty good Canadian whisky. It's true to style, but has more than one dimension. Unlike products like Seagrams VO, Royal Reserve doesn't try to be flavourless brown vodka. That's a good thing, because whisky should have character, but can still be smooth. Basically, I was pleasantly surprised by this whisky.
Recommendations:
Rye and Coke with a squeeze of lime
Manhattan or a Whisky Sour