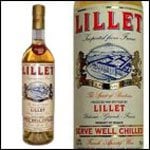 A few months ago I drove two hours to pick up a bottle of Lillet Blanc (pronounced Lee-Lay), so I could make a Corpse Reviver II. The Corpse Reviver II was okay, but the Lillet intrigued me. Lillet Blanc is an aperitif from the Bordeaux region of France that was created in 1887 as a tonic for whatever ailed you. It comes in white or red versions, the red version being created in the 1960's, and is in the same family as vermouth, but it has subtle differences. The formula for Lillet contains wine, orange peel and quinine, which provides the slightly bitter aperitif quality that has made this drink so popular.
In 1985 the Lillet Blanc formula was redeveloped to meet modern grape growing methods and to also make the aperitif more palatable to the modern consumer. They made it less bitter and reduced the sweetness. This created a more vermouth like drink.
On the nose, Lillet Blanc is very reminiscent of a Vidal ice wine. I'm not the only one to make this connection, my wife picked up on it too. Basically, it has an aroma of apricots, peach, orange, honey, and exotic fruits like mango, but the Lillet Blanc also has some hints of spice in the nose. When you taste the Lillet Blanc that's where the comparison to ice wine ends. The Lillet is fairly sweet but not as sweet as icewine, it also has an earthiness to the flavour that's hard to describe. The alcohol is noticeable, but more as a warming effect on the throat. The orange and subtle bitterness make for a good balance with the sweetness of the fortified wine base.
A great way to enjoy Lillet Blanc is to flame an orange peel over the drink. The orange oils provide a nice aroma and compliment the Lillet quite well. This was a popular way of serving Lillet Blanc back in the 1950's. Another good cocktail to make with Lillet Blanc is the Edith's Fizz.
Edith's Fizz Recipe
1½ oz Lillet Blanc
½ oz Maras chino Liqueur
4 oz fresh Orange Juice
2 oz Soda Water
Build in a collins glass with ice.
I feel Lillet Blanc is best served on ice with a flamed orange peel, but it does have some potential to be used in place of vermouth. Once I get my hand on the Lillet Rouge I want to try using it in place of sweet vermouth in a Manhattan. But, it currently isn't available here so I'll have to travel another few hours to get a bottle.