Bartending competition results can never tell the whole story, nor do they reflect the true strengths of each competitor. However, numbered rankings often seem harsh, especially to those who didn't come in first. Like those old "No Fear" t-shirts from the 1990s that claimed "second place is the first loser", numbers are merciless. So for a little more balance, and a little humour, here is how I saw the competition.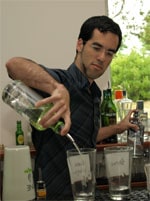 12. Oron "Waits" Lerner (Israel)
When you watch Oron bartend, it's actually quite relaxing, especially when he has Tom Waits playing in the background. It almost made our Executive Barback Shawn Soole cry. However, in most bartending competitions a sense of urgency is required to make it through the speed type tests. Oron also had the unfortunate circumstance of being unfamiliar with many of the brands (i.e. the gin nosing and tasting challenges) and had difficulty in the aroma exam. Because of Oron's less urgent nature, the competitive salesmanship that is required to pry tokens from guests hands at the Spring Ball wasn't there.
Where Oron shines is drink making. He's not the fastest, but he'll make sure they're made properly. There is no shame in that.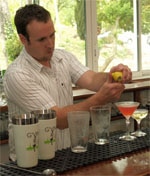 11. Brian "NSAA" Mac Gregor (USA)
With a heavy Canadian contingent at the G'Vine competition, we almost adopted Brian as the 5th Canadian. Brian is an outstandingly nice guy but pulled a few bad straws during the competition. He was first up in all the challenges, which can sometimes give one's nerves a jolt. He also ended up with the back-corner "speakeasy" bar at the G'Vine Spring Ball. Even though his sales were decent at the Ball, he probably could have max'd out his points if he was in a more central location.
Beyond the uncontrollable, Brian had some serious jet-lag plus the desire to be social and have a few drinks with fellow participants probably affected his performance.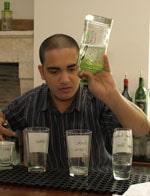 10. Falil "Free Pour" din Jayah (UAE)
Falil made his first impression during the free pour test. He exhibited a sense of urgency and intensity required by competitors. However, a mistake in the Speed Drink Making challenge and the Gin Written Exam knocked his points down. Even moderate improvements in those two challenges would have moved him near the top 5. Falil's results are a perfect example of how challenging the G'Vine competition was.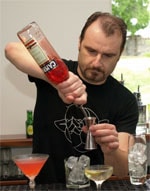 9. Stefanos "I Need a Beer " Paraskevoudis (Greece)
Stefanos was very consistent throughout the competition, placing in the top 5 of all the technical challenges. He was easily within striking distance for a top 3 finish, but the Spring Ball presented some challenges for him. A difficult to find ingredient changed the dynamics of his signature cocktail. This isn't uncommon in competitions. According to the scorecard, his signature cocktail placed 12th, which knocked him down a few spots. He also lacked interior decorating skills, which knocked him down a few more spots, but you can't really hold that against him. Overall, if it wasn't for these factors, Stephanos could have easily placed in the top 3.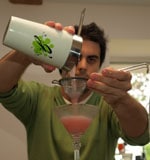 8. Ryan "Vic" Duvenage (South Africa)
Putting a picture of that 1800s beauty Queen Victoria on his bar was an interesting and brave choice. In most bars, it's usually bikini-clad, silicone enhanced, girls that decorate the bar. Ryan was a fairly quiet competitor, at least from what I witnessed. His performance was on par with his final result. However, he probably could have moved up a few notches if he was a little more aggressive at the Paris Spring Ball. But his quiet, easy-going nature was true to form, and that's not a bad thing for a bartender.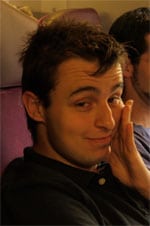 7. Nick "Junior" Nemeth (Canada)
The G'Vine competition was young Nick's international debut. As with all good rookies he stepped up to the plate and tried to drink like the pro's, which resulted in a "special forces" type hotel room extraction conducted by Executive Barback Shawn Soole and his team, so Nick wouldn't miss the early morning bus ride to the train station and by extension the Paris Spring Ball.
Nick performed admirably but could have moved up a few spots. Hanging out with 12 great bartenders is a great time, but it's also hard on the mind and body. Lack of sleep and hangovers have a detrimental effect on one's performance, even though most people, Nick included, deny it. Truth be told, a hangover will knock your point totals down a few notches every time. But, the drinking until 3AM memories will last a lifetime, well at least on someone's digital camera.
The next post will look at the top 6 competitors, including Spyros "The Thumb" Patsialos and Martin "Inferno" Lange.