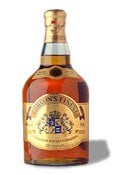 Gibson's is the third most popular Canadian whisky in Canada. It holds 17% of the market and sells around 300,000 cases per year. Whenever you read the term "case" it means that 9 bottles of 750ml were sold. Just in case you didn't know. Outside of Canada, you will be lucky to find Gibson's since it doesn't have much of an international following. However, that may change in the near future. William Grant and Sons recently acquired the brand, and with their world wide reach, they may decide to start marketing this product. William Grant and Sons also own the Glenfiddich and Balvenie brands, so they are no slouches when it comes to international marketing.
[wp_ad_camp_1]
Gibson Whisky Tasting: Neat
Colour: Bright gold. Slightly lighter than Crown Royal
Gentle on the nose, very slight alcohol, with grain notes. Allowing a few minutes to open up releases much more. Some butter, fruit, vanilla and rye. Nice nose, but not as big as something like Maker's Mark.
Fairly dry to start with a subtle sweetness in the finish that develops slowly. There is a slight spiciness with some rye. Smooth with caramel flavours and some wood.
Gibson's With Water
Nose: A whole lot of vanilla pops out with some butterscotch in there too. Biggest vanilla and butterscotch of any Canadian whisky.
Palate: Super smooth with an increase in sweetness with a good mouthfeel. The spiciness is gone, but there is still some oak in the finish with a faint hint of rye. The vanilla is still present. The finish is relatively short.
Compared to Crown Royal it is smoother but doesn't have the finish that Crown does.
Summary
Gibson's is a pretty good whisky and sticks to the classic Canadian style. It isn't as sweet as Royal Reserve, but it is still very noticeable with its butterscotch flavour. This whisky is better with a few drops of water.
Price: $24.95
Age: 12 Years
[wp_ad_camp_1]
Additional Gibson Whiskies
Gibson's Finest Sterling (Price: $22.95)
Gibson's Finest Rare 18 Year Old (Price: $38.00)