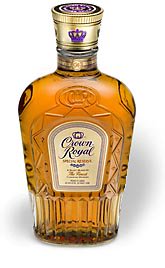 Most people's impression of Canadian whisky is that it is a rather uninteresting spirit with little depth. I think the reason for this is that of the four major whisky groups, Canadian whisky is the friendly, easy going one. Not surprisingly, many people see Canadians the same way. There is the casual side to Canadian whisky, with its light flavour, but there are also some great Canadian whiskies. The products I'm going to be looking at are the reserve whiskies that the Canadian distillers produce. Most of these products don't see much distribution outside of Canada, with the exception of Crown Royal.
Like any whisky-producing region, there are always "gems" that may only be available in local regions. This may be for marketing reasons or because of limited supply. Like all great spirits, vodka not included, the best or reserved spirits are identified and kept to the side for a special bottling. In the old days, cognac producers would do this and keep the truly fine cognac for family and friends. This is true for Canadian whiskies also, even though many people around the world don't seem to realize this.
The three regularly available reserve whiskies in Canada are Crown Royal Special Reserve, Gibson's Finest Rare 18 Year and Wiser's Very Old 18 Year. Other manufacturers produce reserve whiskies, including Alberta Premium Special Edition, which I'll be looking at also. Obviously, other distillers release these products, but I don't have samples to review at the moment. Canadian Club releases a 20-year-old whisky occasionally and Forty Creek will be releasing a reserve whisky at some point. I haven't seen any truly special whiskies from brands like Seagrams (but they own Crown Royal), Black Velvet or Canadian Mist. But these brands tend to focus on the "standard" Canadian whisky, which sells a lot, but doesn't impress whisky aficionados.
Gibson's Finest Rare (18 Year)
Gibson's is a very popular brand of whisky in Canada, but little is know about it outside of Canada. Gibson's holds roughly 17% of the premium whisky market in Canada, which is good enough to be #3. The future of this brand may be on the rise since William Grant and Sons recently purchased the rights to this whisky. More on Gibson's Finest Rare
Wiser's Very Old (18 Year)
The Wiser's line of whiskies tend to be bolder in flavour than other Canadian brands like Crown Royal or Gibson's. Wiser's is the 5th most popular brand of Canadian whisky and tends to have a higher rye component in the mash. More on Wiser's Very Old
Crown Royal Special Reserve
Crown Royal is probably the best know premium Canadian whisky brand. It tends to have a more distinct flavour, that some say reminds them of scotch without the peat. The Crown Royal Special Reserve doesn't have an age statement, but it is estimated to be in the 15 to 18 year range. More on Crown Royal Special Reserve
Alberta Premium Special Edition (25 Year)
Alberta Distillers has recently released this 100% rye grain Special Edition whisky that has limited distribution. This distiller makes all of its whiskies from 100% rye grain, including Alberta Premium (5 Year) and Alberta Springs (10 Year). This is a company that seems to focus on what's inside the bottle and not the packaging. When I opened the packaging tube, the bottles was the exact same, funky 70's style bottle that the standard Alberta Premium comes in. The only real difference is that the "Aged 25 Years" was on the label. But inside the bottle is a completely different story. More on Alberta Premium Special Edition
The one thing you may note about all of these whiskies is the ratio of price vs age. Crown Royal Special Reserve is the most expensive and probably the youngest of the whiskies. But brand power gives you that advantage. Wiser's and Gibson's are both 18 year old whiskies and are priced at $40 CDN, which is fairly remarkable considering most scotches in that range are usually at least double, if not quadruple that price. The final whisky, Alberta Premium Special Edition, is 25 years old but can be had for $30 CDN. It is a great tasting whisky for that price. Good luck on finding a Scotch, Irish or Bourbon for that price, with that age statement.
So which one is my favourite. Well for sipping straight it has to be the Alberta Premium Special Reserve. For cocktails, I'd use Wiser's Very Old. But, I'd never turn down the Gibson's or the Crown Royal, both are great.