The Mai Tai is an often misunderstood cocktail. Many people think this is a tropical fruit juice cocktail, but really, it is a strong rum-based drink. The confusion comes from a hotel in Hawaii that modified the original formula in the 1950s and added pineapple juice—sometimes called a Hawaiian Mai Tai—then someone added guava and orange juice, and eventually, the drink barely resembled the first incarnation. The original 1944 version, created by Trader Vic, used top quality ingredients including 17-year-old rum and finest Curaçao, orgeat (pronounced: or-zat) and freshly squeezed lime juice. A small amount of rock candy syrup can be added for balance.
The creation of the Mai Tai happened in Oakland in 1944 by Victor Bergeron, better known as Trader Vic. The name of the drink was expressed by the guests, who were from Tahiti when they exclaimed "Mai Tai – Roa Ae", which means "Out of This World – The Best". That is how the Mai Tai was born. And that is how Trader Vic's original Mai Tai recipe was born, or so they say.
The 1944 Mai Tai is recommended for people who like the flavour of rum. The cocktail should be made with quality ingredients, thoroughly iced with crushed ice being best. Using a quality orgeat is another important factor. If you can't locate good orgeat you can find a recipe for orgeat here.
Yield: One Cocktail
Mai Tai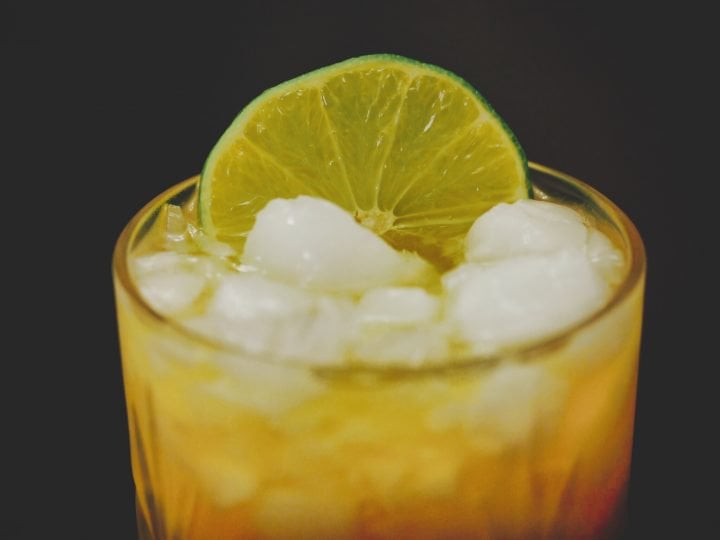 This classic cocktail from the 1940s helped usher in the Tiki age and may well be the best rum cocktail ever created.
Ingredients
Mai Tai Ingredients
1½ oz Appleton Estate Extra Rum
½ oz Depaz Rum Agricole
½ oz Lime Juice
Instructions
Fill a cocktail shaker with ice
Add all the ingredients
Shake and strain into a glass with fresh ice
Float dark rum on top if desired
Garnish
Notes
The Mai Tai has many options, you can add grenadine if you fine the brown colour of the drink a little too bleak. I don't mind it. You can also add a float of "dark rum". I would only do this if the dark rum is aged rum and of a fine quality.
Nutrition Information:
Amount Per Serving:
Calories:

239
What is a great Mai Tai recipe for someone who likes rum? An excellent way to adjust the flavour is to blend your own in this cocktail. My preference is to take 1¼ oz of Appleton Estate Extra 12-year-old rum and combine it with ¾ oz Depaz Rhum Agricole which is based off Jeff Berry's recipe of 1 oz Dark Jamaican rum and 1 oz Martinique rum from his book Beachbum Berry Remixed.
You will see many Mai Tai cocktail recipes calling for Orange Curaçao, which isn't really a product, but a short form for "orange liqueur for Curaçao", however, Curaçao is synonymous with triple sec, so any quality orange flavoured liqueur like Cointreau or Ferrand Dry Curaçao. Avoid cheap triple sec liqueurs as they lack the intense orange flavour better quality products have. And yes, you may find products labelled "orange curacao" and they look orange in colour, but they have simply added a colouring agent, just like Blue Curacao. Read about the history of Curacao liqueur.
Variations of this drink are common because rum works so well with other flavours. The most common modifications are the dark rum float and can be any dark rum, such as Goslings or Myers. Grenadine is another optional component and is strictly added for a touch of colour.
The Mai Tai, along with Don the Beachcombers Zombie, are two of the key drinks that started the Polynesian, Tiki, or exotic, drink craze of the 1940s and continued until the 1970s. After a 30 year hiatus, the Tiki revival has found a second wind.
If you like this drink, you'll probably love the original Singapore Sling.